Benjamin Rozek, Dublin City University

Students' Voices
Benjamin Rozek, Dublin City University(Poland)

2019.11.27
Public Relations Office
Choosing KGU
Why did you choose to study here at KGU?

We had a list of universities to choose from, and honestly, none of them appealed to me other than KGU. Plus, it was the first time that students from our university were able to come to KGU, so I thought it would be interesting. When I did some research, I found out that KGU isn't too far from Osaka, Kobe and Kyoto, so the location is perfect. Also, the sports facilities are perfect. The school has the Fighters, and I really wanted to play football when I came here, but it's a little harder to do than I expected.

Regardless, the heavy sports atmosphere on campus, and the ambiance, is really cool. Also, the campus looks awesome. So the main things were the sports, the location, and also the courses. They didn't focus too much on law, but I came here to study Japanese, so it's OK. I do a dual major of law and Japanese.

What did you know about the Kansai area beforehand? Did you know about Nishinomiya?

Before I came, I checked some places out with Google Street View. Other than that, I knew nothing. I came a few days before classes started and stayed in Osaka. I literally just booked my ticket, printed a map, and said, "It's going to be an adventure."

Are you staying in the host family or in the dorms?

I'm in Residence 5. It's super cool. I love it. The best thing is the views. Every morning you have the view of the mountains off the balcony, it's great. It's far away, but I have a bike and I like cycling, so it's fine. I love the area. I've done hiking along the Fukuchiyama train line and things like that.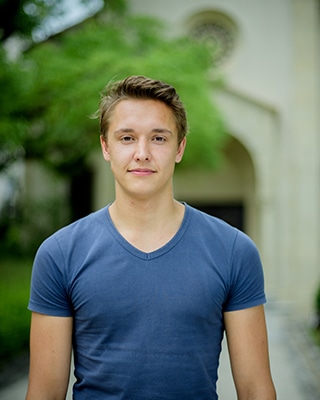 On KGU Student Life
Can you talk a bit about your daily routine on campus? What's your class load like?

I'm really busy. I don't like having a lot of free time, so I wake up about 6 or 7. I go running from 9 to 10, go to the gym until just before 11, and then I head to class. After class, I just chill. I don't like staying alone in my room though, so I usually go to Greenberry's Coffee in Takarazuka to study and do work, because I also have work back home. Most days I'm out of the house.

How have you found the classes?

The classes are great, but 90 minutes… my attention span is really short (laughs). Sometimes it's a bit hard, and when you're tired after working out and running, that catches up to you. I like the teachers, everyone is chill. Class sizes are small, too, so plenty of opportunity for talking. The workload isn't bad either. I love it.

Where do you usually spend your time on campus?

We're all over the place. If the weather's nice, we're at the Central Lawn. Last semester we had a lot of free time in between classes, so my friends and I would always go exploring behind KGU. We found these super cool spots in the mountains and valleys. I spent a lot of time in the Global Lounge as well. This semester, because my classes are mostly close together, I don't have that time in-between. I train before and after classes with my workout group, so we're in the gym too.

Can you compare the students from your home university to the students at KGU?

I'm in the law faculty and the language faculty at DCU. In the language faculty you have to study a lot, but the law faculty has a lot more chill. I think over here, students are a lot more diligent. Also, because we have a lot of exchange students from different cultures, so they have more serious attitudes about studying. I think we motivate each other to try different things, like exploring and exercising.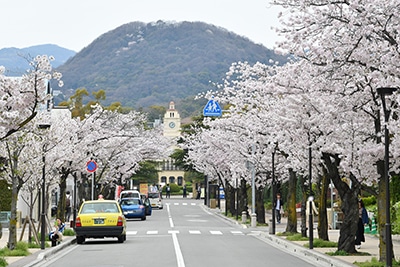 Future Aspirations and Advice for Prospective Students
How do you think you'll take what you've learned at KGU and apply it towards your future goals? Do you want to work in Japan someday?

I'll tell you, I am a 110% changed person since I got here. You've probably heard this over and over.

No one has gone over 100% before.

I've changed so much. I want to come back in two or three years, after saving a bit of money. Everything I've learned about how to be more adaptable and mix in with different cultures, I'm going to take that back home with me. That's why I've been looking into international arbitration, or international law. I've also learned a lot of patience. My view on life, my mentality, has changed a lot. It's going to be hard when I go back.

As someone who's about to finish the program, what advice would you give to someone who's thinking about studying at KGU?

The biggest point is, don't expect anything. Don't come to Japan with preconceived notions and opinions. Immerse yourself in the culture and take everything in. Also, don't be afraid of change, because being here will change you. Also, don't say "no." Don't stop yourself. One of my most interesting moments was going to an onsen for the first time. Whatever your ideas are from the West, leave them behind. If something is done differently, try to understand it from a Japanese viewpoint and be open-minded. That sounds cliché, but yeah. I love it here. You'll definitely see me back here.

For the last question, what's your favorite Japanese phrase or expression?

There are a few. I had to give a speech about motivation last week, and my favorites were "naseba naru" (where there's a will, there's a way) and "shoshin wo wasurebekarazu" (don't lose the enthusiasm you had when you first started). Those are the main ones.