Students' Voices
Jose Bodden, KGU IBA(Dominican Republic)

2019.11.27
Public Relations Office
Choosing KGU
Why did you want to study in Japan?

In the Dominican Republic, I often saw documentaries broadcast on NHK about the Japanese education system and post-war reconstruction. I was impressed by the swiftness of Japanese reconstruction efforts after the war, with the launch of the Shinkansen and the hosting of the Olympics in particular, and I was moved by the way that everyone joined together and worked to cooperate. Ever since then, I've wanted to come to Japan and learn about Japanese technology.

Why did you choose KGU?

There are two reasons. The first reason is location. I thought it was necessary to live in a place where I could focus on my studies, so I chose to live in Kobe. It has a good balance of nature and urban areas, and I find the city relaxing because its proximity to the ocean and mountains is similar to my hometown. The second reason was the program offered by the university. I was interested in doing an MBA program offered in English. There are a lot of subjects to choose from, and as most of the professors have lived abroad, I got the impression that KGU would be an environment where it was easy to learn.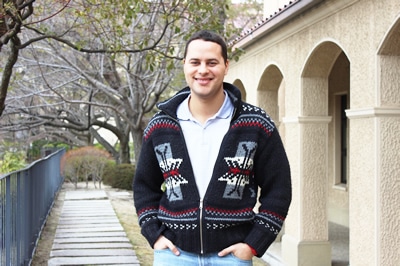 Life at KGU and Life in Japan
What do you like about KGU?

I like its international atmosphere. There are lots of exchange students, so you can meet people from all over the world. You can learn about different cultures and ways of thinking, and I feel that by taking those lessons in, you can grow as a person.

How do you spend your time off?

I like traveling so I've been to many places. The memory that sticks with me is my trip to Takayama City in Gifu Prefecture. The traditional thatched-roof architecture was beautiful, and I fell in love with the quintessentially Japanese townscape. I was also impressed at the fact that Takayama City's tourist pamphlets also had a Spanish version. I also like to sing, particularly old songs like "Summer Days 1993."

What's your favorite Japanese word or expression?

My favorite word is "kansha" (gratitude). For me, coming to Japan was a lifelong dream. Japan is so far away from my country, and I also had some financial issues, so I thought it would be mostly impossible. However, now I'm studying in Japan, and I've been able to meet many people, so I'm truly grateful. No matter what happens from now on, I want to make sure that I never forget to feel gratitude. That's how important this word is for me.