Lea Roberts, San Francisco State University

Students' Voices
Lea Roberts, San Francisco State University(USA)

2019.11.27
Public Relations Office
Choosing KGU
Why did you want to study in Japan?

In the Dominican Republic, I often saw documentaries broadcast on NHK about the Japanese education system and post-war reconstruction. I was impressed by the swiftness of Japanese reconstruction efforts after the war, with the launch of the Shinkansen and the hosting of the Olympics in particular, and I was moved by the way that everyone joined together and worked to cooperate. Ever since then, I've wanted to come to Japan and learn about Japanese technology.

Why did you choose KGU?

There are two reasons. The first reason is location. I thought it was necessary to live in a place where I could focus on my studies, so I chose to live in Kobe. It has a good balance of nature and urban areas, and I find the city relaxing because its proximity to the ocean and mountains is similar to my hometown. The second reason was the program offered by the university. I was interested in doing an MBA program offered in English. There are a lot of subjects to choose from, and as most of the professors have lived abroad, I got the impression that KGU would be an environment where it was easy to learn.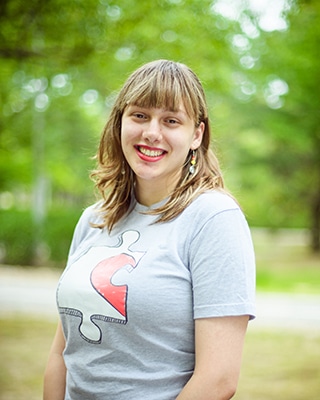 On KGU Student Life
How are your language classes?

Honestly, I think they are much more enjoyable and easier to understand compared to the classes I've taken in America. Teachers are so willing to explain something again if I don't understand it. They're very involved, and so are the CIEC people. Every time I stop by, they ask me "How are the classes going? Is everything OK?" It makes me feel very safe. If something were to go wrong, I don't have to figure it out by myself. I can ask them for help.

In terms of concrete support, what have they done specifically to help make you feel as welcome as possible?

One thing is testing. I need to be able to take my tests in a different class and have more time. At first we tried to do the test inside the class and I'd just come earlier, but it wasn't working out for me because it was too distracting, so I went back to CIEC and asked if we could do something else. Within a couple days, they found rooms where I could go for testing time. They were very willing to work with me, which I really appreciated.

What's your daily schedule like?

My busiest day is Wednesday, where I have four classes in a row, so I wake up at about 6:30 and leave about 7:30. I'm usually one of the first students in. I go straight home after all my classes are done, because those days are just so exhausting. If I don't have too much homework, I'll help my host mom out with dinner and cleaning. On Thursday, I only have one class, which is a little annoying, but I can understand why it's important to study Japanese every day.

Are you taking any culture classes?

I'm taking two classes from the Modern Japan track. One is Ethnics in Japan and the other one is Comparative Cultures. They're both taught in English, and they're very interesting. The Ethnics class has lots of debates involving cross-cultural morality.

Do you have any favorite spots around campus? Where do you usually hang out?

I really am so surprised by how beautiful this campus really is. My home university is kind of small, so it's nice to have a campus where there's a pond and you can go look at the baby ducks. I'll usually go by the pond and walk around. Sometimes I go to the Global Lounge. I would say all the greenery is very nice, especially during sakura season.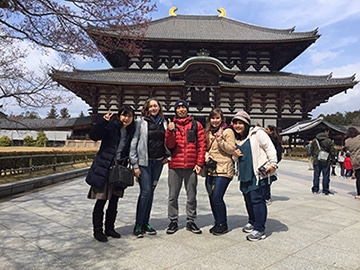 Future Aspirations and Advice for Prospective Students
If you could give advice to someone who was thinking about studying at KGU, what would you tell them?

I think one of the most important things is to know your email contacts at your university, for the undergraduate administration or your department. I had a problem when picking out classes, because some of them were different from what SFSU wanted. I needed to fulfill my credit requirements and still get credit for the classes I took here, and it took three weeks of back-and-forth to figure out what classes I could take. I would also suggest bringing an unlocked phone. It's definitely more useful than what you can rent out.

How will you apply the lessons and Japanese skills you've learned here towards your future goals?

When I go back, I will be working with the study abroad program and the student disability department, to encourage people to go abroad. This is off in the distance, but one of the career goals I've been looking into is being a cultural exchange ambassador, so I would love to get a master's degree in communications and look into possibly pursuing that.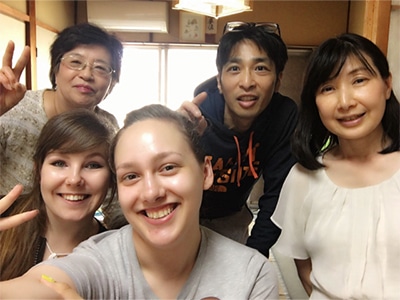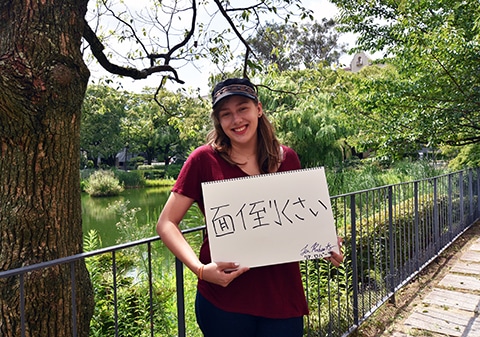 Let's close with one last question. What's your favorite Japanese phrase or expression?

I don't know if it's appropriate (laughs), but it's definitely "mendokusai" (what a pain). It's the perfect thing to say when you have to go do something. That's probably my favorite.