Discussing the SDGS-G20 Relationship at a Joint Workshop with the University of Toronto

News and Topics
Discussing the SDGS-G20 Relationship at a Joint Workshop with the University of Toronto


2019.06.25
On June 23rd at the Nishinomiya Uegahara Campus, the Integrated Center for Foreign Affairs Studies at Kwansei Gakuin University hosted an international joint workshop with a G20 research group from the University of Toronto, Canada, ahead of the G20 summit in Osaka.
The major theme of the workshop was the relationship between the Sustainable Development Goals (SDGs) and the G20. Participants exchanged opinions on three key points—(1) how has the G20 summit functioned to promote the SDGs and create a sustainable world, (2) what can be done at the Osaka summit to achieve the SDGs, and how has the G20 worked together with the UN, and (3) how can the partnership between the G20 and the UN be strengthened after the Osaka summit—among other topics. There were more than a hundred participants, mainly students, who enthusiastically listened to the talks given by researchers and experts in foreign affairs and diplomacy. The University of Toronto and KGU have a long history of friendship that dates back almost 130 years. This workshop came about through a call from Professor John Kirton, founder of the G20 research group at the University of Toronto, and who also previously served at KGU as a visiting researcher.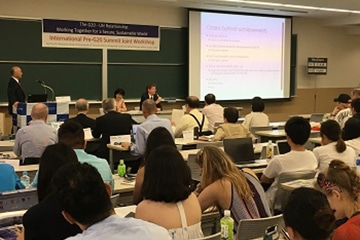 In the morning, professors and researchers from the University of Toronto research group, who have studied the G20 for many years, gave lectures and presentations about the history of the G20 summit, initiatives to implement matters discussed at the G20, and the role of the G20 and the UN in relation to the safety and stability of Asia and the world at large. The afternoon session kicked off with keynote speeches in the afternoon. Izumi Ohno, Director of the JICA Research Institute, took the stage along with Professor Kirton. Director Ohno discussed the possibilities and forecasts for the Osaka summit in relation to the SDGs from the perspective of the T20 (a G20 think tank). Afterward, professors from the Integrated Center for UN and Foreign Affairs Studies talked about the trend of multipluralism, how the G20 and UN should work together in the future, and brought up questions about how to achieve the SDGs. The professors and Director Ohno had a lively debate conducted through a panel discussion format.