KGU Continues its Push for LGBT Awareness and Acceptance with 7th Annual KG Rainbow Week

News and Topics
KGU Continues its Push for LGBT Awareness and Acceptance with 7th Annual KG Rainbow Week



2019.05.15
Japan has seen a major uptick in social awareness of LGBT issues over the past few years. In a 2015 survey conducted by the advertising firm Dentsu Inc., although only 37.6% of respondents were familiar with the definition of the LGBT acronym, 68.5% of respondents answered similarly in a 2018 survey, and almost 80% of 2018 respondents said that they wished to gain a deeper understanding of the LGBT community. However, of the 8.9% of 2018 respondents who self-identified as LGBT, 65.1% said that they had not come out to anyone, an indicator of how difficult it is for LGBT persons to be open about their sexuality in Japan. Since 2013—several years before this societal shift began in earnest—Kwansei Gakuin University and the school's Institute for Human Rights Research and Education have been working to boost both awareness and acceptance of the LGBT community through the annual KG Rainbow Week, which was the first event of its kind for a university in western Japan.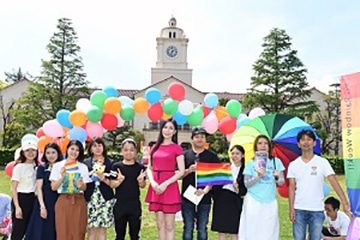 Held for the seventh time this past May and timed to coincide with IDAHOT (The International Day Against Homophobia and Transphobia), the goal of KG Rainbow Week is to celebrate diversity, deepen understanding of the issues facing sexual minorities, and foster an environment on campus where all members of the community can mutually accept each other for who they are, regardless of gender, age, sexuality, or religion, and are able to exhibit their talents to the fullest. This year, the guest speaker at the opening event was model and actress Kate Asakura.
During KG Rainbow Week, which has grown larger and larger each year, the university hosts LGBT-related book exhibits, movie screenings, fellowship gatherings, panel discussions, guest lectures and other events across all of its campuses.