KGU Holds an Online Exchange Meeting With Hendrix College in the USA Through the KAKEHASHI Project

News and Topics
KGU Holds an Online Exchange Meeting With Hendrix College in the USA Through the KAKEHASHI Project




2021.03.15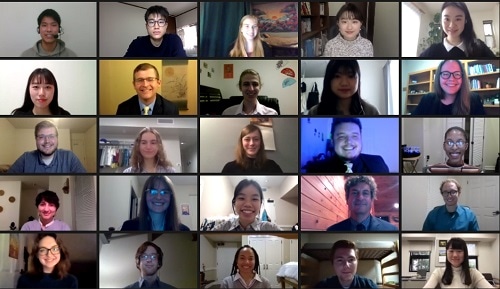 On March 12, Kwansei Gakuin University held an online exchange meeting via Zoom with Hendrix College in Arkansas, USA, as part of the KAKEHASHI Project, which is an international exchange program promoted by the Ministry of Foreign Affairs of Japan to promote understanding between Japan and the United States (implementing organization: Japan International Cooperation Center). Nine students from Kwansei Gakuin University and 16 students from Hendrix College participated. Representatives from both universities gave presentations on the current situation in Japan and the United States, centered around the themes of "COVID-19 Infections" and "Political Systems in Japan and the United States," and the participants were divided into four groups to hold discussions in English.
 The discussion topics were "What kind of experience have you had during the COVID-19 pandemic, and how should you act as a university student during the COVID era?" and "About political participation by the younger generation, the new government administration, and expectations for the future." Students from KGU prepared for the presentations until the very last minute by studying in advance and engaging in mock discussions. In the presentation on political participation, Mr. Toshiki Shitamukai, a 4th year student of the KGU School of Economics, explained how the Prime Minister is elected by the members of the Diet in Japan. During the exchange session that followed, Mr. Shitamukai talked about how he participates in every election, but that he and his friends feel uncomfortable talking about who they voted for and the political parties they support. In contrast, many of the Hendrix students said that they usually talk about the election with their friends and family, but some students said that they did not talk about politics often, so the students were able to find some common ground. Even though they were unable to meet each other in person, the students engaged in lively discussions, and it was a valuable opportunity to interact with people from other countries in a face to face virtual setting.
 Through the KAKEHASHI Project, 23 students, including Mr. Shitamukai, visited Arkansas last year. in February 2020. They visited Japanese companies, elementary schools, and other locations, and gave presentations which showcased the appeal of Japan, with a focus on its culture. Mr. Shitamukai introduced Japanese rooms, furniture, and architectural styles. Hendrix College students were supposed to come to Japan afterward, as well, but the trip was cancelled due to the spread of COVID-19. The students took the lead in organizing online discussions and social gatherings twice in June to deepen their connections with each other. Mr. Shitamukai, who studied abroad in Canada for four months in his second year, said, "When I studied abroad, I mainly studied the language, but for the KAKEHASHI Project, I had to introduce Japanese culture and traditions, so I studied a lot about Japan. I realized that my language skills are still lacking, but it was a great experience for me." Kwansei Gakuin University has plans to conduct more exchanges with Hendrix College in the future.