KGU Welcomes the German Consul General to Campus for an Open Seminar Hosted by the UNFA Center

News and Topics
KGU Welcomes the German Consul General to Campus for an Open Seminar Hosted by the UNFA Center



2021.06.21
On June 16, as part of the activities planned for Graduate School Week, the Integrated Center for United Nations and Foreign Affairs Studies (UNFA Center) at Kwansei Gakuin University invited Mr. Martin Eberts, Consul General, Consulate General of the Federal Republic of Germany, Osaka-Kobe, to deliver a lecture at an open seminar for the Graduate Course in United Nations and Foreign Affairs Studies (UNFA Course). Mr. Eberts visited the campus to meet with Prof. Kyoichi Marukusu, Vice-President of Kwansei Gakuin University and Prof. Takahiro Shinyo, Dean of the UNFA Center and former Ambassador of Japan to Germany, who served as emcee for the event. The lecture was delivered online via Zoom, and was attended by Kwansei Gakuin students, faculty and staff, and members of the public.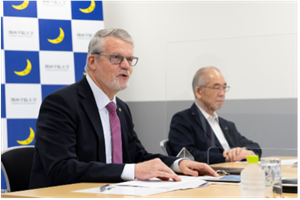 Mr. Eberts, a historian by training with more than 35 years of experience in the diplomatic field, spoke about Germany and its relationships with nations in the Indo-Pacific region, the challenges that the world faces today amidst a competition of superpowers between the US and China, and the strategies that Germany is employing to address those global challenges. After the lecture had concluded, there was a Q&A session, and he engaged in lively discussions with KGU faculty members and students in the UNFA Course about a variety of topics, such as striking a balance between human rights and economic activities in the international sphere, as well as German policies with regard to climate change and nuclear power generation.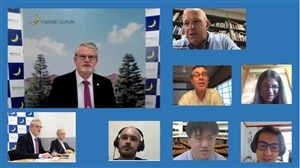 In his remarks, Mr. Eberts mentioned that the year 2021 marks the 160th year of the bilateral partnership between Germany and Japan. He stated that both countries are ideal partners for one another due to the many things they have in common, and remarked that if Germans and Japanese could work together on solving global issues, their collaborative activities could have a significant impact. As the session drew to a close, Professor Shinyo expressed his gratitude to Mr. Eberts for the comprehensive presentation. "The global issues we face are different and complicated, so we have to think together and live together to be able to find solutions in an amicable way. We are very grateful to have the opportunity to engage in this discussion with the Consul General, Mr. Eberts, and share this moment together," he said.