Approximately 6300 Undergraduate and 600 Graduate Students Join the Spring AY2022 Entrance Ceremony

News and Topics
Approximately 6300 Undergraduate and 600 Graduate Students Join the Spring AY2022 Entrance Ceremony


2022.04.05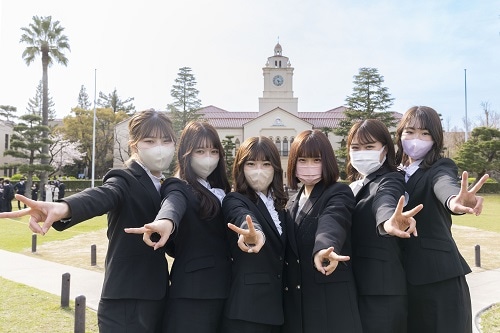 The Kwansei Gakuin University entrance ceremony for Spring AY2022 was held on April 1 and 2 at the Nishinomiya Uegahara Campus, with roughly 6,300 students being admitted to the 14 undergraduate schools, as well as roughly 600 students being admitted to the graduate schools. Continuing from last year, the ceremony was conducted with measures to prevent COVID-19 infections in place, such as maintaining sufficient distance between seats. Parents and guardians were asked to refrain from attending, and the ceremony was streamed live on the university YouTube channel.
During President Osamu Murata's ceremonial address, after he offered words of congratulations to the new students, he pointed out that the world was entering an era of VUCA (Volatility, Uncertainty, Complexity and Ambiguity) amidst uncertain circumstances such as the Russian invasion of Ukraine. He explained that the post-COVID world would try to make Society 5.0, which is notable for digital transformation based on AI, into a reality. In such a world, with innovation as its cornerstone, the world's sense of values is shifting from the pursuit of personal profit to participation in social contribution. "As the first President of Kwansei Gakuin, C.J.L. Bates, said: 'We aim to be strong, to be masters - masters of knowledge, masters of opportunity, masters of ourselves, our desires, our ambitions . . . . but having become masters, we desire not to inflate, and enrich ourselves for our own sake, but to render some useful service to humanity in order that the world may be better for our having lived in it.' Isn't that the sense of values necessary for a post COVID-society?" he asked.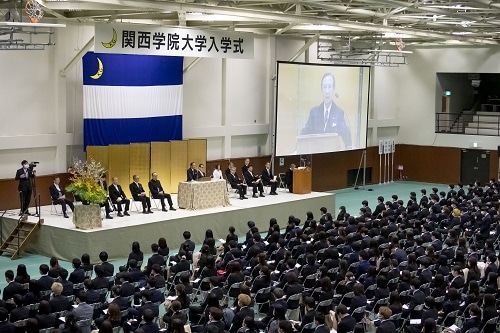 Furthermore, "Competencies for bringing about reform—having the ability to do things like create new value, overcome hardship and dilemmas, and take responsible action—will be necessary in a post-COVID society. To acquire these skills, you must have something to devote yourself thoroughly to, no matter what it is, during your college years," he emphasized. "The important thing is to take on multiple challenges. Please engage in dual endeavors, such as balancing your studies and club activities, studying your chosen field and studying abroad or outside of the university, and taking courses across multiple Schools. Innovation and creativity are only born when knowledge and wisdom belonging to different areas come together. It is my fervent hope that while you are a student here at Kwansei Gakuin University, you will take on challenges and improve your skills to develop into an ambitious World Citizen who embodies the spirit of Mastery for Service, then spread your wings and soar off into the world to contribute to the happiness of humanity."
Following the President's ceremonial address, Chancellor Motoo Nakamichi discussed the mission of Kwansei Gakuin to develop World Citizens who embody the spirit of Mastery for Service, and explained the two things that are essential for becoming a World Citizen. "First, you need to know about the world. As we learn more and more about world history, culture, language, philosophy, religion, science, and society and the more knowledge you gain through classes and research, the doors of the world will open wider to us, and reveal even more of its breadth, depth, and diversity. In the course of your studies, you will encounter different cultures and ways of thinking from your own, and the key point will be how much you understand those differences," he emphasized. "Next, you need to know yourself. When we know and accept ourselves, we can know and accept others. The Bible tells us to 'love our neighbor as we love ourselves.' You can learn what it means to love yourself, and to be someone who gives love, at Kwansei Gakuin," he explained. "I hope that you will discover the answers through dialogue with Christianity, the backbone of Kwansei Gakuin. I look forward to you connecting with the world, and becoming World Citizens who create new knowledge," he told the gathered students.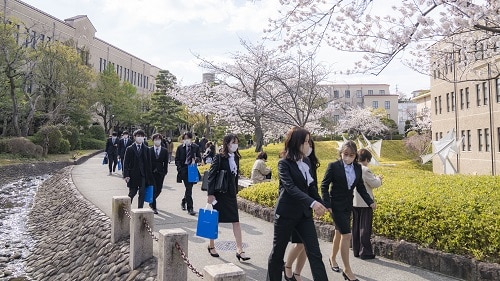 The Spring AY2022 entrance ceremony for graduate students was held on April 1 at the Central Auditorium, with roughly 600 students being admitted.