KG Fighters Win the Collegiate National Championship for the 29th Time

News and Topics
KG Fighters Win the Collegiate National Championship for the 29th Time

2018.12.17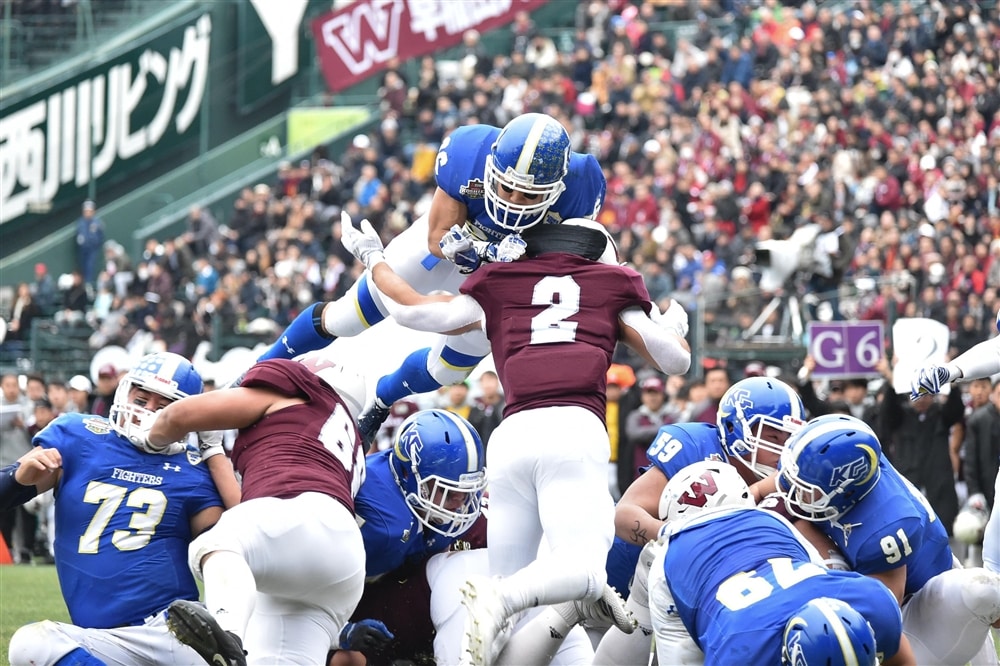 On December 16th (Sunday), the 73rd Annual Koshien Bowl was held at Koshien Baseball Stadium, pitting the Kwansei Gakuin University Fighters against the Waseda Big Bears for the collegiate national championship. The Fighters won the game, 37-20, and claimed their 29th national title. The fans in the left-field and third base stands, decked out in KG blue, let out huge cheers as the game ended. This was the second time that the Fighters have faced Waseda, and there was plenty of scoring in the first half.
On the first series, running back Dai Watanabe (#6, junior, School of Theology) charged in for a touchdown from the 1-yard line. Running back Kosuke Nakamura (#26, senior, School of Business Administration) leapt over defenders to add a touchdown on another series, and a field goal was successful. Though Waseda tried to come back, the Fighters' stalwart defense never let the Big Bears back in the game. with defensive back Koki Hatanaka (#45, junior, School of Economics) picking off a pass, among other fine plays.
In the second quarter, the Fighters broke the game open with a combination of running plays and defense. Defensive lineman Keigo Saito (#99, senior, School of Sociology) sacked the QB at the 1-yard line, quarterback Koya Mitsudo (#10, senior, School of Economics) used the chance to score a touchdown, and the first half ended with the Fighters up 27-7. The lead grew in the third quarter, with Mitsudo successfully completing a touchdown pass and kicker Kosuke Ando (#8, junior, School of Business Administration) knocking in a field goal, and the Fighters withstood a late flurry from Waseda in the fourth quarter to clinch it. As the winners of the Koshien Bowl, the Fighters will now advance to the Rice Bowl for the second time in three years.