KGU Students Organize the First-Ever Kendama Tournament in Nepal

News and Topics
KGU Students Organize the First-Ever Kendama Tournament in Nepal




2019.08.04
Ayaka Komori and Yui Hokaku (both third-year students in the School of Policy Studies) were dispatched to Nepal through the one-semester international volunteer program offered by the Center for International Education and Cooperation. In the program, students teach children in private schools about the Japanese language, Japanese culture and other subjects. They organized the first-ever kendama tournament to actually be held in Nepal, and over 80 elementary school students joined.
This event was organized in collaboration with the Club of World Citizens (CWC) and the Nepal Kendama Network. The tournament consisted of three events: a kendama race, a moshikame (flipping the ball back and forth across the top and side) challenge, and a trick competition. Tamotsu Kubota, representative for the Global Kendama Network, put on an impressive kendama show and organized workshops, in addition to a moshikame challenge that anyone could join. The event was a rousing success, and was even covered by local media.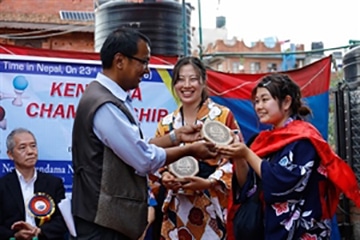 In Nepal, physical education is not included as part of the holistic curriculum, and children often do not have spaces, facilities and equipment at their schools to exercise. For that reason, there is concern about children's low levels of physical fitness. Erika Yamada (a third-year student in the School of International Studies) and Rica Nagashima (a fourth-year student in the School of Policy Studies), who were stationed in the same area before Hokaku, started to teach students kendama, which can be done in small spaces. By obtaining the cooperation of the elementary schools, they were able to turn it into a project. Komori and Hokaku linked up with their predecessors, and were able to make the first-ever Nepal kendama tournament a reality.