International Volunteers Share Their Overseas Experiences at an Open Forum

News and Topics
International Volunteers Share Their Overseas Experiences at an Open Forum




2021.10.28
"Taking on the Challenge to Be a World Citizen - International Volunteer Programs" Open Forum Held
 On October 23, Kwansei Gakuin University, which has dispatched many students to developing countries as international volunteers through a variety of unique programs, such as the United Nations Volunteers (UNV), held an online forum entitled "Taking on the Challenge to Be a World Citizen - International Volunteer Programs." Graduates who had served as UN Youth Volunteers, as well as students currently active in developing countries, discussed topics such as the specifics of their activities, their mental preparations prior to departure, and how they are using what they learned post-graduation. In total, roughly 70 people, including members of the public, joined the forum.
 Until now, international volunteer programs, which have sent more than 300 students overseas to developing countries, have been suspended due to the global spread of COVID-19. However, starting this fall, KGU has restarted programs according to the local situation, first sending three students to Kyrgyzstan, Namibia and Zambia as UN Youth Volunteers. One more student is preparing to be dispatched to East Timor. This forum was planned in anticipation of the gradual resumption of international volunteer programs. Mr. Kota Hada—a KGU fellow, practicing physician, and the chair of Aozora, a non-profit organization which deploys medical support services to developing countries—served as facilitator.
 The panelists were Akemi Ashida (School of Policy Studies, 2010 graduate), Tatsuki Hanada (School of Policy Studies, 2017 graduate), and Shiho Kuwahara (School of International Studies, 2020 graduate). While Ms. Ashida was a student, she was dispatched to Kyrgyzstan as a UN student volunteer, and after obtaining her doctorate at Kobe University, she worked at UNESCO in Thailand. At present, she works as an assistant professor at the Waseda University Graduate School of Asia-Pacific Studies. Mr. Hanada served as a volunteer at a Malaysian NGO for five months through the International Social Contribution program, then was dispatched to Ethiopia as a UN Youth Volunteer. He currently works at Google Japan. Ms. Kuwahara was dispatched to Zambia as a UN Youth Volunteer, and after she graduated, she attended graduate school at the University of Sussex, where she studied Media and Journalism.
 In addition, there was a video letter from three KGU students set off to serve as UN Youth Volunteers at the end of September: Yumika Yoshida (third-year, School of Policy Studies) who was dispatched to the Food and Agriculture Organization (FAO) in Kyrgyzstan, Emiri Yamada (fourth-year, School of Policy Studies), who was dispatched to the United Nations Development Programme (UNDP) in Namibia, and Keisuke Yoshida (fourth-year, School of Policy Studies), who was dispatched to the United Nations Development Programme (UNDP) in Zambia. Together with active UN staffers, the students are engaging in a variety of missions that are assigned to them, such as PR activities through social media and going along on site surveys.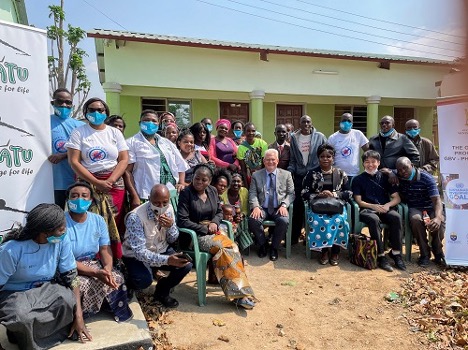 The students gave a report on the state of their activities on-site through the video letter. They had messages for students who are aspiring to become UN Youth Volunteers, saying "you can gain valuable experience by seeing the activities of active UN staffers up close," and "Constantly using English and carrying out tasks in a professional way is difficult, but it's precisely for that reason that I can experience growth, and I don't regret it, so I hope you will participate too."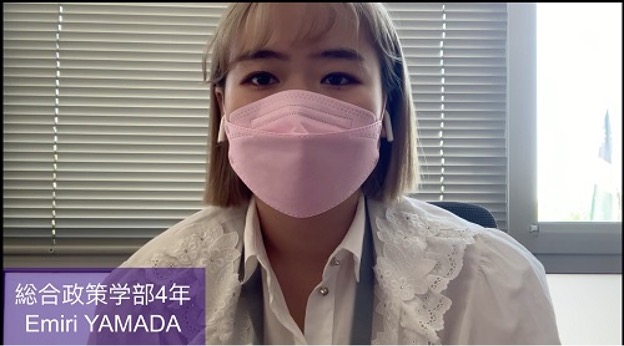 At the session, which was facilitated by Mr. Hada, the panelists answered questions from viewers, in addition to answering the many questions received in advance. Major questions from the session, as well as the responses from the panelists, are as follows.
Q1. What preparations do you need to make in advance before joining the program?
- I mastered how to use advanced software like the Adobe suite before going overseas, but even though I was dispatched to a UN public relations department, Powerpoint was the software I was able to use. Don't think you're totally ready just because you've done a lot of preparation beforehand. The important thing is having the flexibility to improvise when it comes to dealing with actual problems you encounter when you're on-site.
- Overseas, you're going to hear lots of different accents and unique expressions depending on the country, not the American and British English you usually hear in teaching materials. You should talk to lots of people, and have as much exposure to English as possible.
- In the UN Youth Volunteers program, you will participate in various meetings for UN staffers on-site, and there will be a lot of chances for you to write meeting minutes and reports. I think you should practice your writing skills.
Q2. What are some difficulties you faced overseas, and how did you overcome them?
- The concept of time is totally different in Africa. Someone might message you and say "I'll be there in ten minutes" and show up two hours later, so you can't create schedules the way you would in Japan. I shared my struggles with my friends who were dispatched to other countries. We empathized with each other's situations, and got through them by inspiring and supporting each other.
- Before I set off, I thought I would be fine if I could just speak English, but when I actually went overseas, I couldn't make myself understood at all, and I struggled. I realized the importance of experiencing the world through a non-English language. By learning another language in addition to English, I was able to broaden my horizons.
 As her message to current students, Ms. Ashida gave them encouragement, saying "Amidst the current COVID crisis, I think there's a temptation for you to curl up and hide, but precisely because of this situation that I would like you to take on challenges and be unique. If you do the same things that everyone does, you'll end up being one of them." Ms. Hanada said, "It's possible to grow a lot if you live with a mindset of overestimating yourself and thinking that you have talent; and if you don't have talent, it's important to have an attitude where you accept that."
 FInally, Prof. Takeshi Sekiya of the School of International Studies, representative faculty member for the UN Volunteer Program, summed up the session by saying "The UN Volunteer Program is operated by highly experienced faculty and staff members through a well-prepared system. Though many students are shrinking away from going overseas during the COVID-19 pandemic, I hope that you will be brave and take the first step forward." Going forward, Kwansei Gakuin will continue working to instill in its students the ability to interact and empathize with others, and to cultivate World Citizens who embody the slogan of "Mastery for Service" and will be responsible for creating a better world.