442 Students Receive Graduate Degrees at Commencement (Fall AY2020)

News and Topics
442 Students Receive Graduate Degrees at Commencement (Fall AY2020)


2021.03.17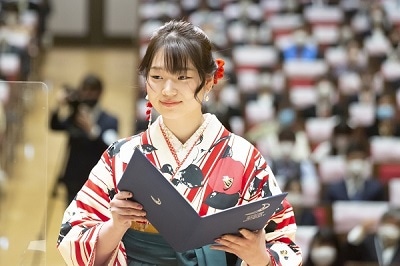 On March 16, the Graduate School Commencement Ceremony for Kwansei Gakuin University was held at the Nishinomiya Uegahara Campus in the Central Auditorium.
 In his ceremonial address, President Osamu Murata of Kwansei Gakuin University congratulated the graduates and spoke about the impact of last year's spread of COVID-19 and the changes in the world in a post-COVID society, saying, "This situation is expected to continue for at least a year, but we need to look ahead to what a post-COVID world will be like in a few years. You will all be entering society at a major turning point in time. What is needed in a post-COVID society, or Society 5.0, is an innovative spirit unencumbered by existing ways of thinking. In an age where individual characteristics and individuality are required, young people are expected to take the initiative in transforming society. It is necessary for you to constantly train yourselves to evolve and grow ahead of the times," he explained, and asked for them to respond.
 Then, regarding reports that young people's values are changing to "a desire to help others" and "a desire to improve society" amid the spread of COVID-19, he said, "This idea is almost synonymous with Kwansei Gakuin University's school motto, 'Mastery for Service.' We do not want weakness. We do not want to be weak, we want to be strong, we want to be masters. But the purpose of our desire to be masters is not to accumulate personal wealth, but to serve the world. I sincerely hope that you will train yourself to respond to the changes in society and the world, and use the results not only for your own benefit, but also for the benefit of humanity worldwide. I hope that you will keep this in mind and play an active role in society, taking pride in the fact that you are graduates of Kwansei Gakuin University," he encouraged.
 The degrees were then conferred on the representatives of each graduate school.