120 KGU Students and High School Students Participate in an Online Workshop for AI Applications

News and Topics
120 KGU Students and High School Students Participate in an Online Workshop for AI Applications



2021.03.09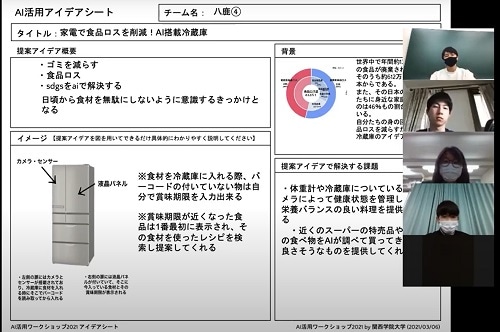 On March 6, Kwansei Gakuin University held an online "AI Application Workshop" to consider ways to solve various issues in society using AI (artificial intelligence). Kwansei Gakuin University launched the "AI Solution Architect Training Program" in the 2019 academic year to develop human resources who can use AI to solve various issues in society. A total of 120 participants, including university students enrolled in the AI Human Resource Development Program and high school students from WWLC base schools and partner schools, presented and discussed their ideas and developed applications for AI-based problem solving.
 First, Professor Hiroyoshi Miwa, of the School of Science and Technology, explained that the world is in need of human resources who can utilize AI, saying, "As AI can now be used easily, it is important for us to think about how we can incorporate AI to solve problems in the real world."
 After that, five presentations were made by the teams that participated in the Prototype Development Category, where they introduced not only their ideas but also their actual developments. An application that uses AI to analyze various notifications and remind you so that you don't miss anything amidst the COVID-19 pandemic, as well as an an AI that recognizes sign language, were introduced with demonstration videos. In the Idea Category, the teams were divided into seven groups, and university students acted as facilitators. In addition to the presentations by each team, there was time for discussion to brush up each idea, and opinions were actively exchanged. One team from each group was selected to make a presentation to the entire group, taking into account the comments made during the discussion, and various ideas were shared. The participating students said, "I was able to learn about various ideas for using AI, which broadened my thinking," and "I was surprised by the high level of the presentations in the prototype category."
 Support Project for Building a WWL Consortium
 The WWL Consortium is a leading project to promote the reform of high schools and the connection between high schools and universities to foster innovative global human resources in the future. In addition, it will create an environment for high school students to take advanced and diverse learning programs and courses that transcend grade levels and schools, such as preemptive university education, according to the interests and characteristics of individual students. High schools designated as "Core Schools for Curriculum Development" will conduct research and development and practice exploratory learning aimed at solving global social issues, and hold related international conferences for high school students. At present, 22 schools, including Kwansei Gakuin Senior High School, have been designated as "Core Schools for Curriculum Development" nationwide, and the Kwansei Gakuin Educational Corporation serves as the administrative body for Kwansei Gakuin Senior High School.